Welcome to Tri-Town United Soccer
Please click the soccer ball to register for the 2020 season
Tryouts times for October 19th 
| | | | | |
| --- | --- | --- | --- | --- |
| BIRTH YEARS | TEAM | TIME | FIELD | |
| 2012, 2011 and 2010 | GIRLS | 3:00-4:30 | FIELD C | |
| 2009 and 2008 | GIRLS | 3:00-4:30 | FIELD B | |
| 2007, 2006 and 2005 | GIRLS | 3:00-4:30 | FIELD E | |
| 2012, 2011 and 2010 | BOYS | 3:00-4:30 | FIELD D | |
| 2009 and 2008 | BOYS | 1:30-3:00 | FIELD B | |
| 2008 and 2007 | BOYS | 1:30-3:00 | FIELD E | |
| 2006, 2005 and 2004 | BOYS | 1:30-3:00 | FIELD A | |
| 2004, 2003, 2002 and 2001 | GIRLS | *NO TRYOUT | | |
| 2003, 2002 and 2001 | BOYS | *NO TRYOUT | | |
*TEAMS WILL BE FORMED BASED ON REGISTRATION NUMBERS

TRI-TOWN MISSION STATEMENT
To provide the most competitive and highest-quality* travel soccer program for the youth of our community
*High-quality will meet our objectives of:
Developing our youth as individuals and as team players
Enhancing social and athletic development
Providing a safe, substance-free environment
Providing the best coaching and finest fields & facilities within our not for profit resources
Developing good sportsmanship
Enjoying the game and having fun
Tri-Town United Soccer Club offers travel teams for boys and girls from ages of under 08 to under 19. Tri-Town United Soccer is a member of a competitive travel league, BWNYJSL, therefore the process of choosing teams includes tryouts, which will are held in late summer/early fall for the following summer season. Depending on the players age some teams will have multiple age groups
Become a member of the Tri-Town Soccer Family!
2019-2020 Travel Tryouts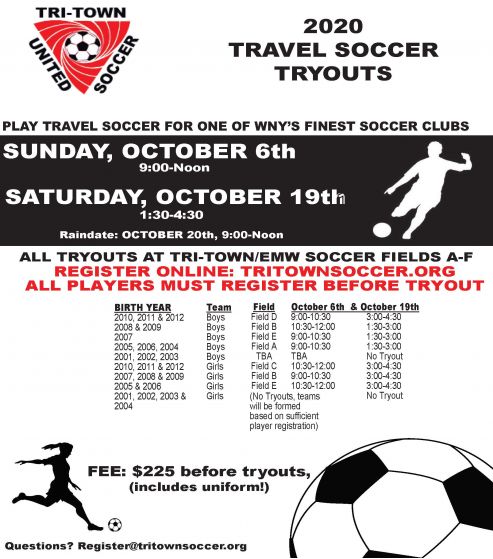 Our Fields:  7100 Seneca St., Elma, NY  14059